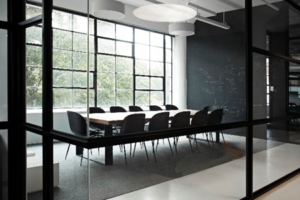 By Helen Mulhern Halasz, ECU Student Affairs Assessment, Research, & Planning and Katherine Krieger, ECU Disability Support Services
You are familiar with the concept of Universal Design even if you don't use the formal term. In its simplest form, principles of Universal Design benefit multiple groups by increasing the usability of products and structures. Think sidewalk curb cuts used by people with rolling backpacks, skateboards, or strollers. That is Universal Design in action. Now apply the concept to mental processes, and you understand Universal Design for Learning.
Our vision as educators/trainers/coaches to create an environment where all can achieve their personal and professional learning personal goals aligns with Universal Design for Learning, a framework to help make learning inclusive and transformative for all (https://www.cast.org/impact/universal-design-for-learning-udl, n.d.). Universal Design for Learning principles use multiple ways to:
Represent information
Engage learners
Permit learners to demonstrate learning.
The graphic below illustrates how you can use Universal Design for Learning (UDL) in the breakout room, boardroom, or conference room with learners of all abilities. Consider incorporating Universal Design for Learning principles in designing programs and communications to meet the needs of ALL learners!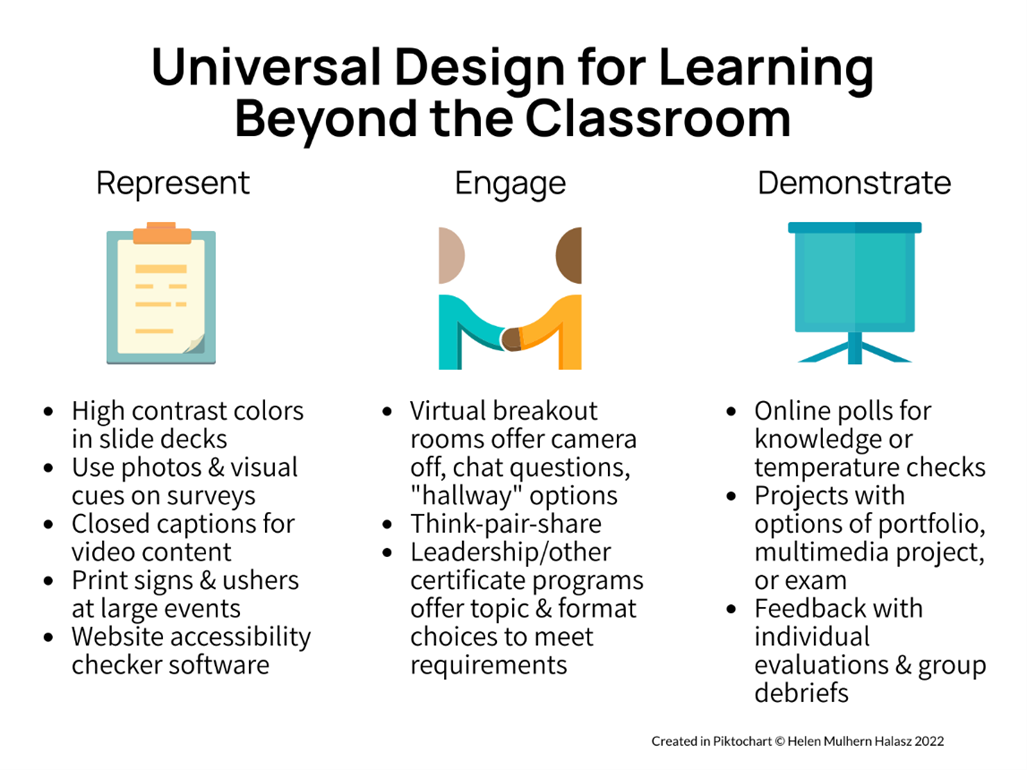 Alt text: This infographic is titled Universal Design for Learning Beyond the Classroom. It has three columns. The first is "Represent" with an image of a clipboard. High contrast colors in slide decks. Use photos and visual cues on surveys. Closed captions for video content. Print signs and ushers at large events. Website accessibility checker software. The second is "Engage" with an image of two cartoon individuals shaking hands. Virtual breakout rooms offer camera off, chat questions, "hallway" options. Think-pair-share. Leadership/other certificate programs offer topic and format choices to meet requirements. The third is "Demonstrate" with an image of a projector screen. Online polls for knowledge or temperature checks. Projects with options of portfolio, multimedia project, or exams. Feedback with individual evaluations and group debriefs.