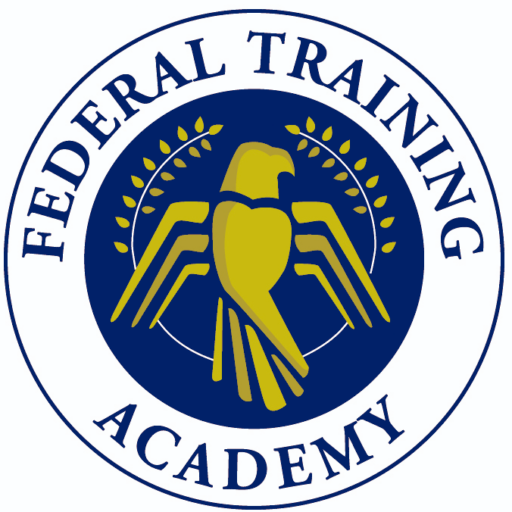 Since 1999, Federal Training Academy has provided specialized training, coaching, and consulting for thousands of employees from every department in the U.S. Federal Government. With our proven and consistent success partnering with employees at all levels on high-profile teams, we earned word-of-mouth recommendations expanding our client list across the globe.
Our services are curated by award-winning experts based on neuroscience research. With mindful attention to each clients' unique needs, we gladly customize our off-the-shelf content for your in-house sessions.
We are dedicated to your upward mobility and stay Engaged in Your Success. We are not merely contractors with our eyes on the clock; we are your learning partners for long-term success. You can count on Federal Training Academy.
Try one of Federal Training Academy's courses. We'll exceed your expectations.
Develop strong POWER SKILLS.
We maximize growth and accelerate your career development.
Specialize in government.
We are honored to serve the public sector. We speak the language, know the system, and understand the culture. Our team of outstanding professionals focuses on your career and achieving the mission.
Create culturally intelligent and ideal learning environments.
We are approachable and ensure psychological safety during and after our time with you. We skillfully shape interactive, engaging environments with positive energy and helpful insights.
Share real-life, relevant experiences.
We collaborate with you for deeper understanding to unearth "aha moments," resolve challenges, and ensure practical on-the-job application.
Successfully master change.
We link people and missions in an agile world with tailored, purposeful, and regularly updated content to best navigate change. With Federal Training Academy by your side, you won't merely manage change well; you'll master it as a change leader.
Guarantee high Return-On-Investment (ROI).
Our team's dedication supports learning absorption and enhanced productivity. Our consistently exceptional course evaluations and return rates prove that Federal Training Academy's success formula works.
Engaged in Your Success is our motto as we embody Federal Training Academy's core values.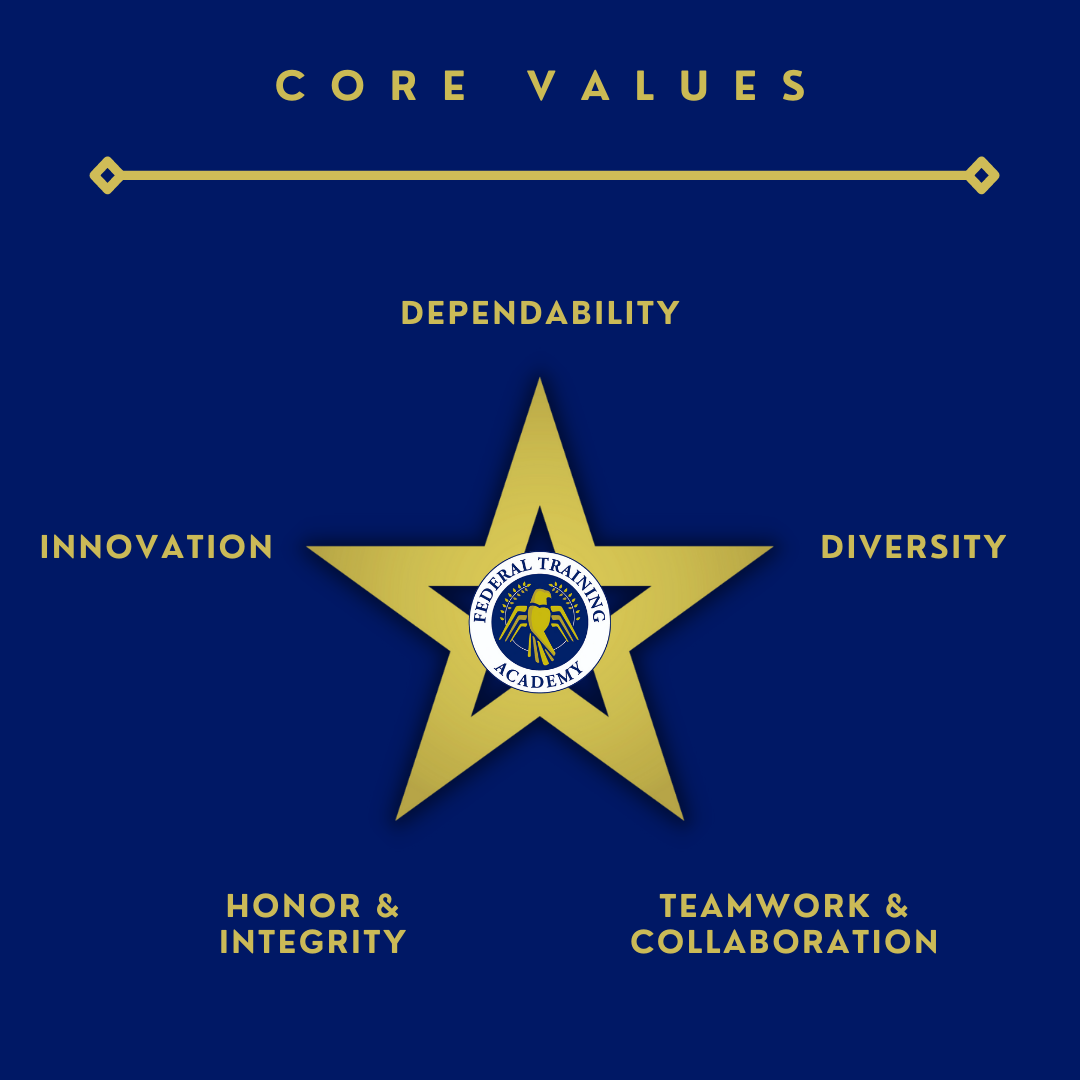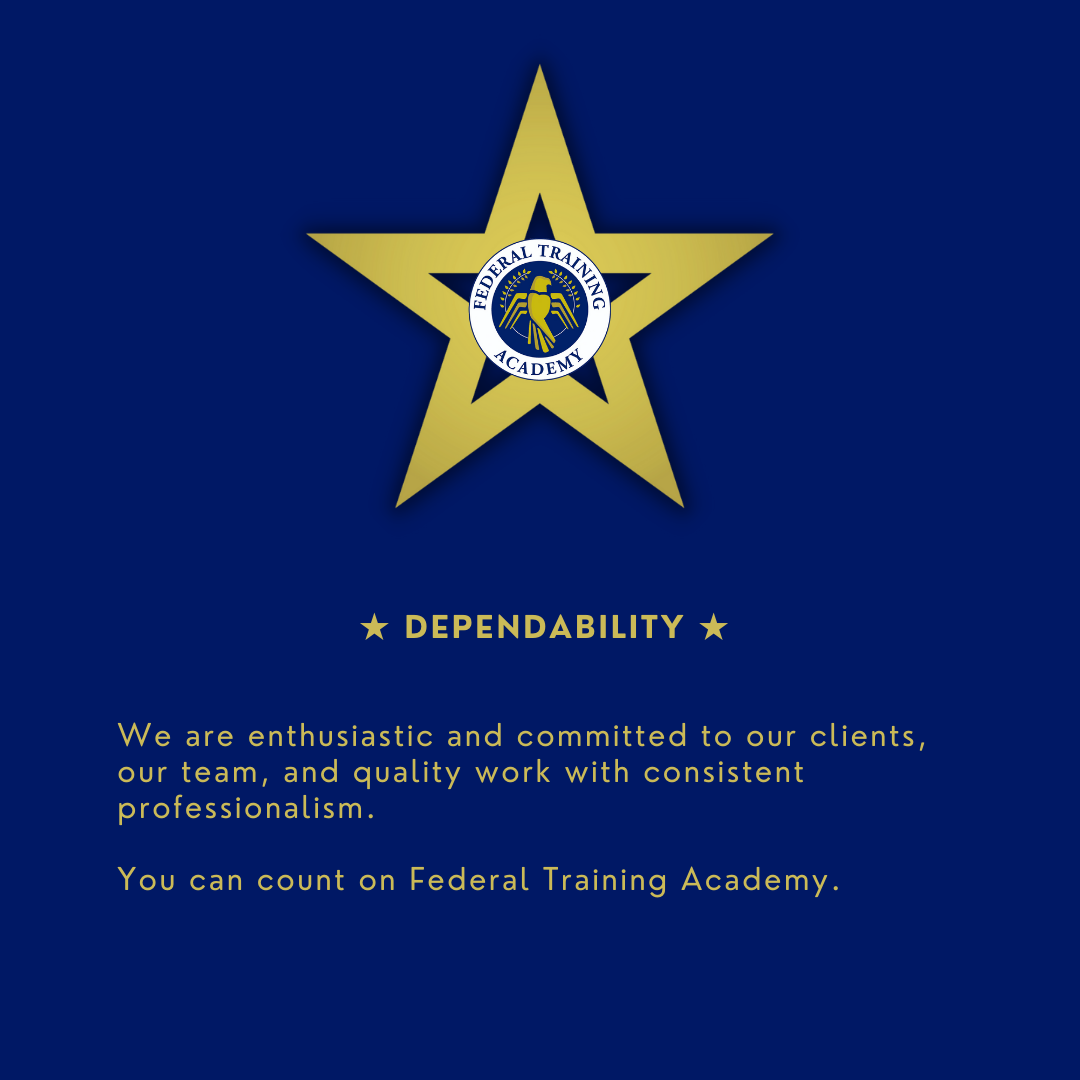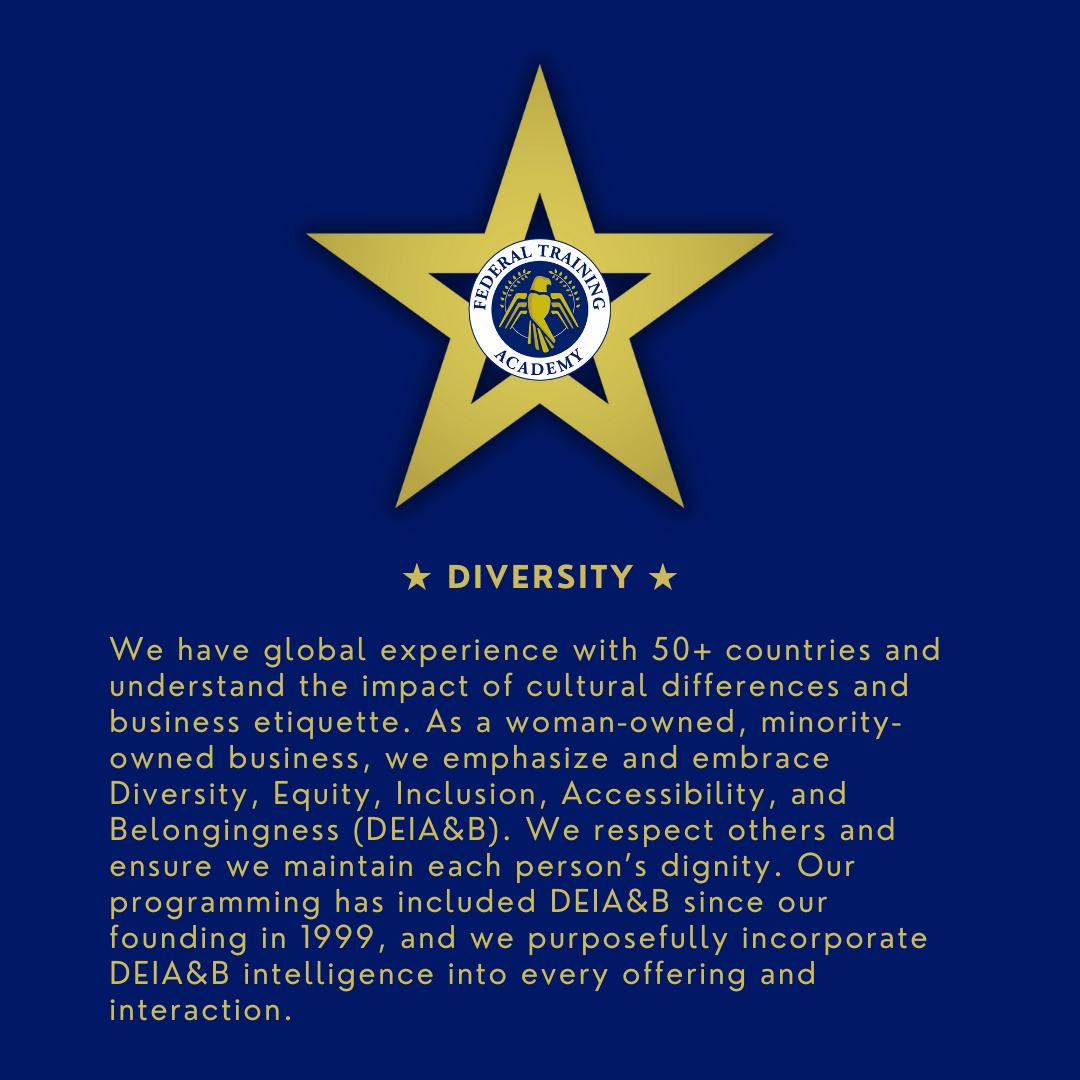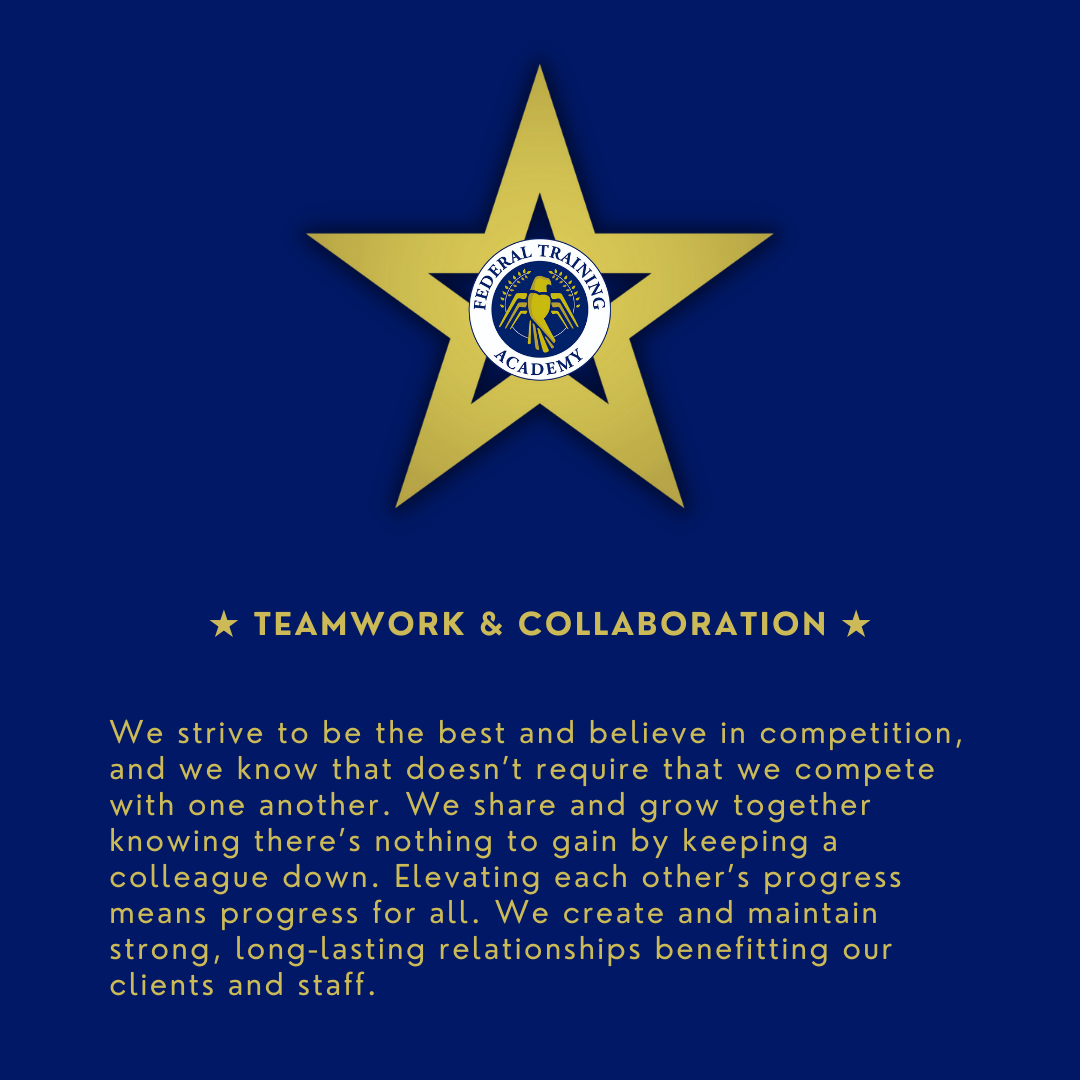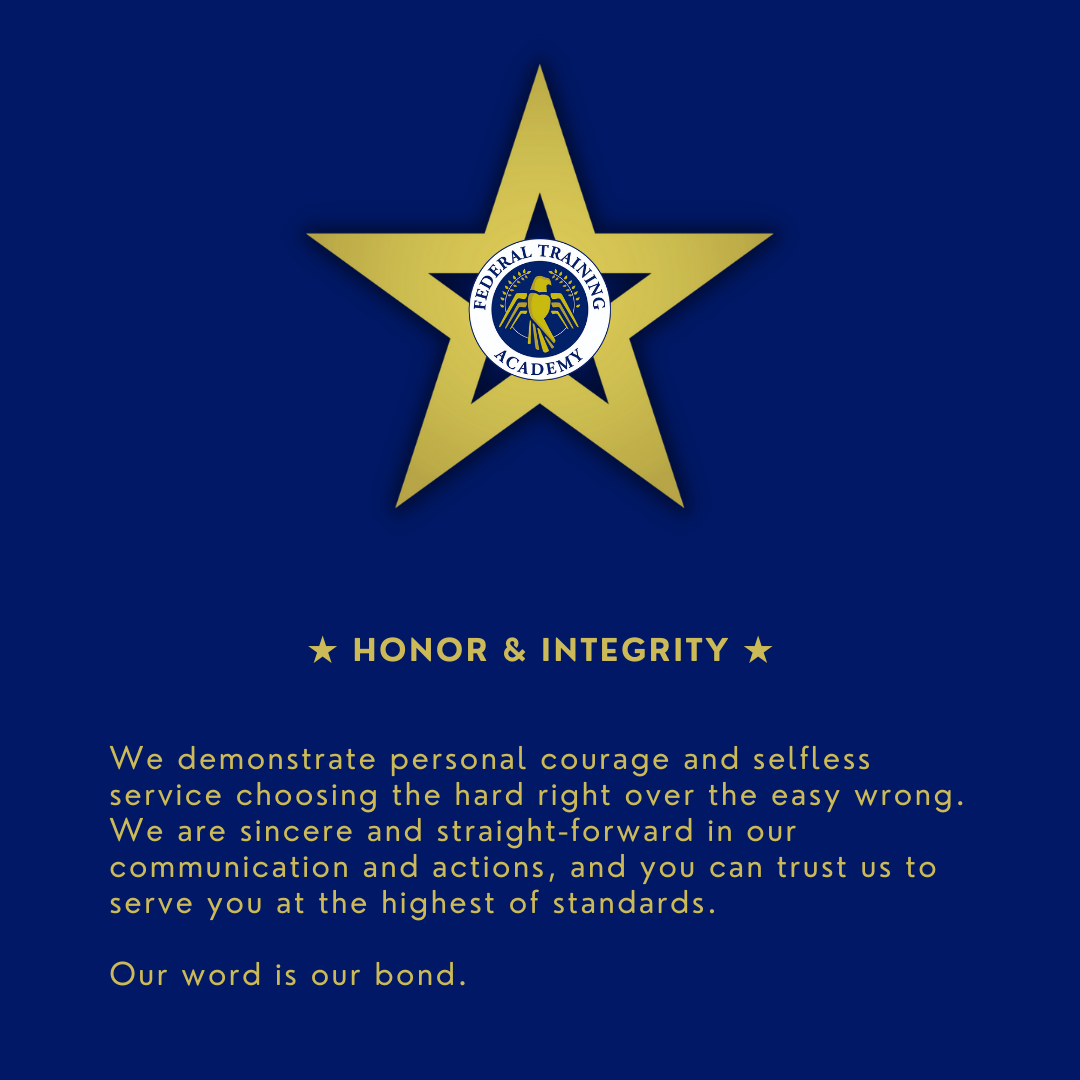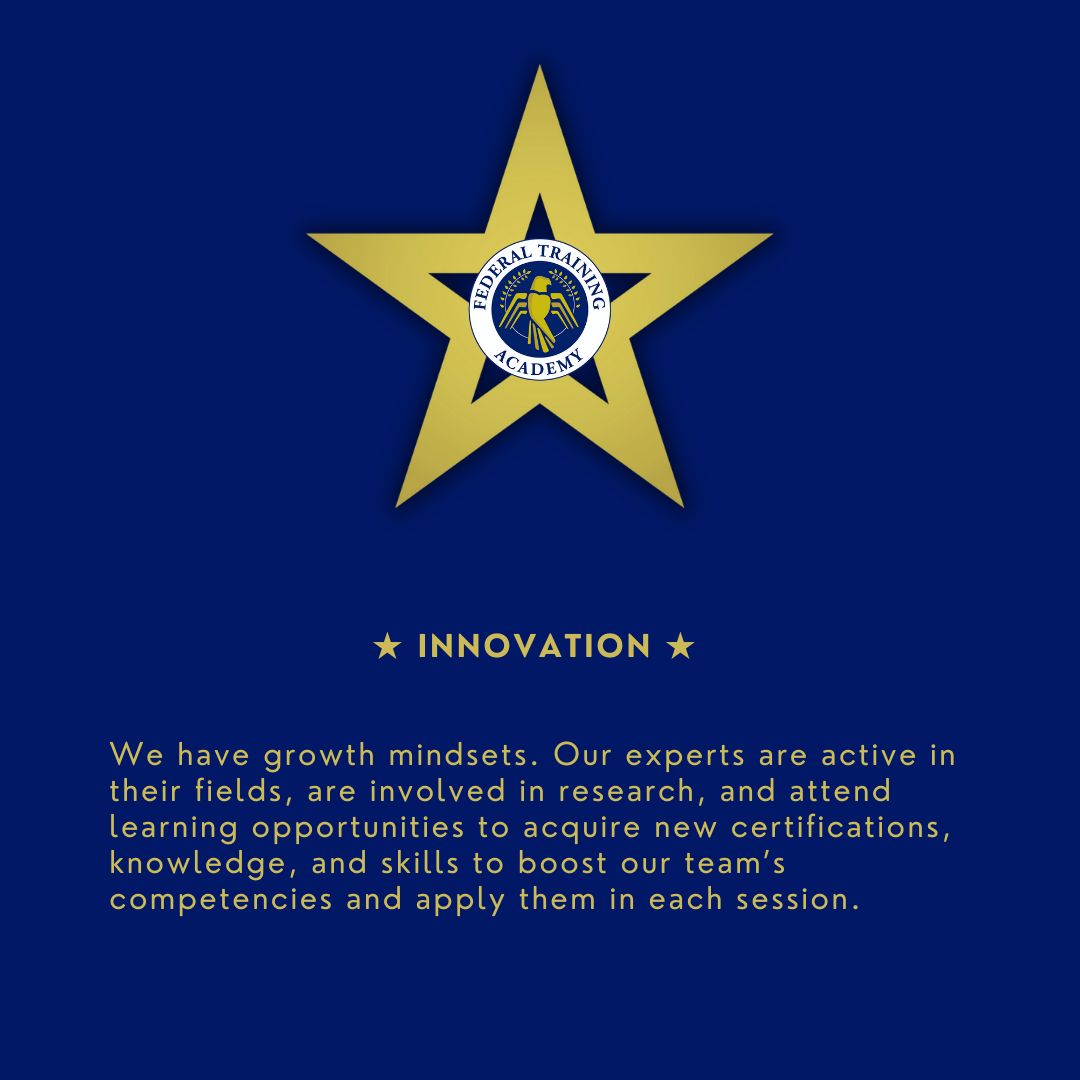 We live by our values and have earned a reputation among clients for providing the best value for every dollar with our distinct advantages.
★ Best-in-industry facilitators, trainers, and coaches 
★ Award-winning virtual engagement
★ Individual attention with limited enrollment 
★ On-line customer library
★ Free learning opportunities
★ Discount pricing
★ Global experience creating culturally intelligent experiences in 50+ countries
Make Federal Training Academy your first choice.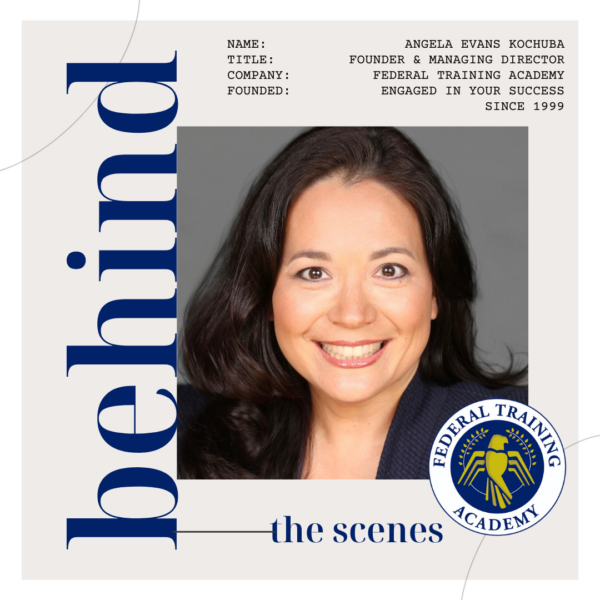 The Federal Training Academy team has outstanding credentials for both in-person and virtual deliveries. A high percentage of doctorates and master's degrees combined with many years of relevant experience are the signature trademark of our educators, speakers, facilitators, and coaches. With high engagement levels and enthusiastic interaction, we ensure learning absorption for practical use on the job. We attract, hire, and retain the best by treating them as well as we treat our customers…first class all the way!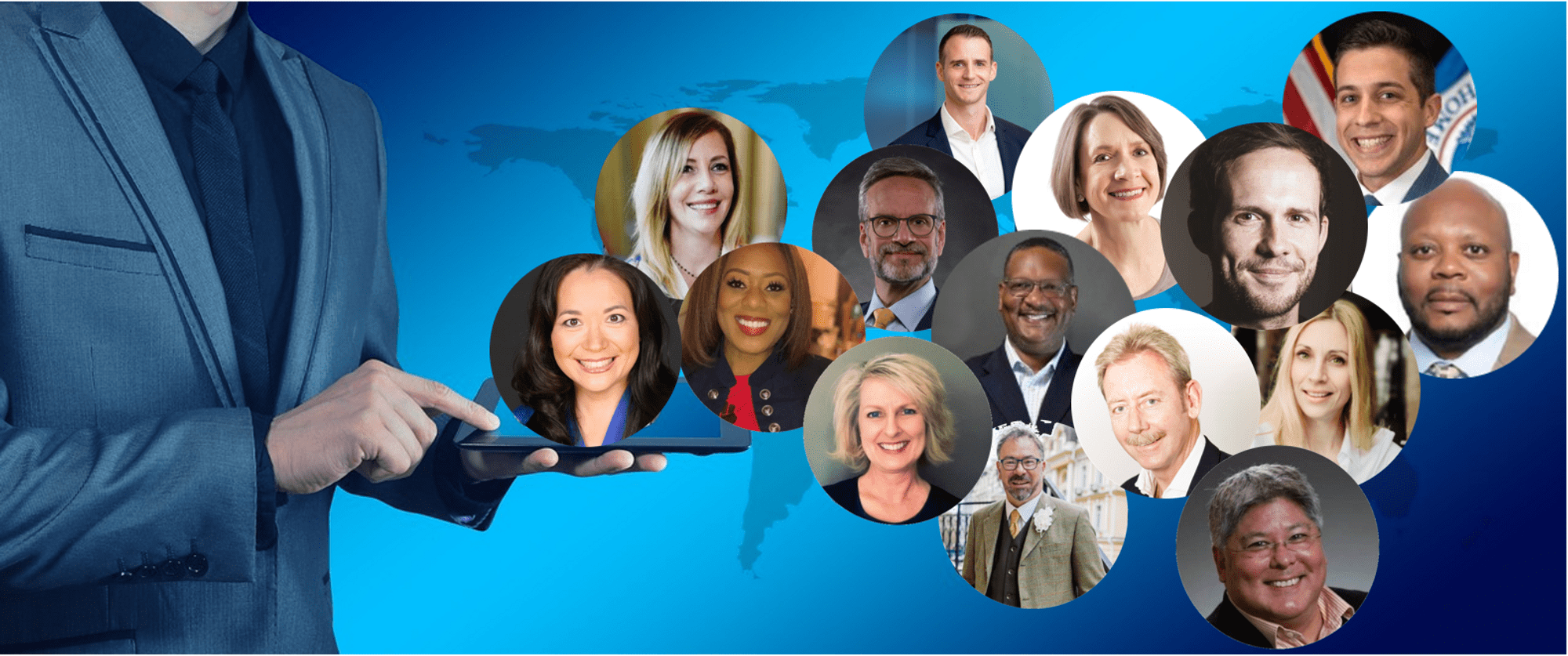 Listed below are some of the credentials for our dynamic team:
MBA from the Darden School of Business at the University of Virginia; BS from the McIntire School of Business Administration at the University of Virginia; recipient of community, local government, and industry awards including in the virtual environment; community and professional leadership appointments; change management consultant; trained thousands of people in government and industry with a client list including all major departments of the federal government; speaker for association events, including Senior Executives Association, Blacks in Government, African American Federal Executive Association, Training Officers Consortium, and Federally Employed Women; acquired government security clearances.
Master's in Electrical and Computer Engineering from the University of Virginia specializing in Communications; thousands of government clients from security agencies, State Dept, Dept of Defense/Pentagon/all branches of the military, and White House;  industry clients including NASCAR racing teams, Krispy Kreme, Pepsi Bottling Ventures, financial institutions, public utilities, and universities; recipient of numerous professional awards and honors; appointed to many prestigious leadership teams and public speaking events; Cisco certifications include CCIE, CCNA, and Meraki; acquired government security clearances at Top Secret/Sensitive Compartmentalized Information level. Extensive work trips in 49 countries.
Master's degree in Organization Development and Human Resources with concentrations in Organizational Development and Change Management from The Johns Hopkins University; earned post-graduate certificate in The Neuroscience of Leadership with concentrations in Problem-solving and Decision-making, the Emotional Brain, Collaboration/Social Brain, and Facilitating Change from Middlesex University in London; Leadership Coaching graduate certificate from Georgetown University; Management of Change graduate certificate from The Johns Hopkins University; International Coaching Federation (ICF) member badge; certified Dare to Lead Facilitator; Leadership Circle Profile Certification; Collective Leadership Assessment Certification; World Business & Executive Coach Summit coaching practitioner; certified Conversational Intelligence Coach and Facilitator.
PhD and Master's of Philosophy in Industrial/Organizational Psychology from the George Washington University; BA in Psychology from James Madison University; certified facilitator in 10+ professional assessments; 30+ years experience providing strategic human capital consulting, dynamic facilitation, and impactful training design and development; specializes in leadership development, employee engagement, performance management, workshop facilitation, team building, executive coaching, and change management; association clients include Mortgage Bankers Association and the University Space Research Association.
Master's of Arts in English from Auburn University; BA in English from Jacksonville State University; graduate of Coaches Training Institute and member of International Coaching Federation; certified administrator of 10+ assessments and tools; large industry clients, such as Lockheed Martin, HP, and Panasonic; extensive government experience working with 10+ federal government departments; internal HR executive in Fortune 50 companies, such as Coca-Cola Enterprises. Extensive work trips to Saudi Arabia, Brazil, Great Britain, Japan, and India.
PhD in Organizational Leadership and Human Resource Development from Regent University; MBA from Shepherd University; BS in Bachelor of Science in Business Administration from Presbyterian College; ICF-accredited Professional Life Coach from Coach Training Alliance; 10+ years of experience designing, developing, and facilitating workshops for international organizations and universities.
PhD and MS in Operational Management from Carnegie Mellon University; BE (Honors) ECE from College of Engineering, Guindy, Madras, India; Executive-in-Residence, Innovation Lab, Integrated Innovation Institute at Carnegie Mellon University; award winner and author for inspiring Indian/Asian women in technical fields; focus on mentoring, innovation, and entrepreneurship.
MBA in Organizational and Human Resources Development; member of American Society of Training & Development (ASTD), Society of Human Resources Management (SHRM), and Society of Applied Learning Technology (SALT); certifications and assessments in Myers-Briggs Type Indicator (MBTI), Strengths Deployment Inventory (SDI), Leasdership Work Styles, and Thomas-Kilmann Instrument (TKI) StrengthsFinder 2.0; with 20+ years experience and expertise in Executive Coaching, Leadership Development, Project Management, Team Building, and Performance Management with international clients; founder of Alliance of Creative Professional Women.
Certified master facilitator (1 of 44 in the world), certified coach, certified diversity executive, and certified emotional intelligence practitioner; served 14 years in the US Intelligence community and Department of Defense; culture executive for DIA and NGA, chief of Leadership Development and Training, and leadership development training lead for influencing workforce culture, leading organizational change and neuroleadership; held positions as Diversity Executive, Compensation Executive, and Chief of Enterprise Training for large 10,000+ organizations.
Senior Executive Service (Retired); Executive Leadership in Strategic Planning, Business Operations and Process Improvement, Acquisition Management, Human Capital Management, Leader Development, Workforce Relations, Emergency Management and Continuity of Operations, Organizational Health and Wellness; directed and oversaw review of FLETC's service contracts, oversaw the planning and implementation of FLETC's first recycling program; former Assistant Director, Mission and Readiness Support Directorate of FLETC; retired US Air Force; awarded White House Presidential Rank Award for Meritorious Service, Department of Homeland Security Secretary's Unity of Effort Award, United States Air Force Meritorious Service Medal.
MBA from New York University; Center for Executive Coaching (ICF); NeuroLeadership Institute (Brain-Based coaching); Neurobiology of Everyday Life from University of Chicago; Psychology from Yale University (Advanced Degree); served financial industry in business development and sales; published two history books contributing to the understanding of the Founding of America in the corporate world; executive coach with unique combination of extensive international business development and communication; fluent in both English and Dutch.
PhD, Organizational Communication & Leadership; Doctoral Fellow, Interpersonal & Organizational Communication; award-winning educator, trainer and researcher with more than 20 years of combined experience in the areas of communication, leadership, employee training, online teaching and learning, course development, curriculum design and academic program management; expertise for combining traditional higher education best practices with innovative delivery models for the online classroom environment; highly skilled in working with faculty, course developers and subject matter experts in transitioning traditional for-credit courses to online and blended formats; speech writing is currently passion.
Master of Science in Economics & Applied Social Studies; Post Graduate Diploma in Applied Social Science; Qualified Executive Coach – Institute of Leadership & Management; Honorary Lecturer – Swansea University; certified practitioner of the EQ-i 2.0® / EQ360® & MTQ48® assessment tools; workplace mentoring level 7 and DISC for Personal Development; with over 25 years of experience in the public, private, and third sector – helps clients to transform & overcome challenges to become more effective in leading their people to achieve better business results; coaches to develop & refine leadership & management practices & strategies for improved performance, teamwork & results; worked in India, Africa, North America & across Northern Europe; resides in Wales.
Master's degree in Communications-Design from Folkwang University of Arts; 10+ years experience in Creative Direction and Consulting creating award-winning experiences for brands such as Lufthansa, Montblanc, DHL, Telekom and Fila; Professional Certified Coach by the International Coach Federation PCC-Level; Institute for Professional Excellence in Coaching CPC and ELI Master Practitioner; NLP Master Practitioner; TRuST Headcoach; Lecturing Self-Management and Social Competences for the University of Applied Sciences and Arts in Dortmund, Germany; best-selling author and speaker with focus on Conscious Integrated Leadership.
Acclaimed workplace expert, speaker, strategist and innovator specializing in interdisciplinary expertise in the areas of innovative global workplace initiatives, culture change, strategic communications, knowledge management, next generation/future workplace predictions, performance and talent management, and employee engagement. 20+ year career in public service includes assignments throughout the United States Intelligence Community and across the Federal government. Veteran of the Unites States Army, having served as both an enlisted soldier and commissioned officer.
Former Captain at the Dutch National Police Force, praised for modern approach on leadership, team development and out-of-the-box solutions for complex issues. Trained and inspired many leaders in hostmanship and servant leadership, embracing and optimizing diversity, equity, and inclusion in national and international organizations; Certified Agile Coach and Professional Scrum Master. Led many teams to optimize their performance through implementation of Agile Principles, such as Scrum, KanBan and Obeya; holds a Bachelors Degree in Policing Science, has been recognized for outstanding work by both local and national commissions.
Retired Senior Executive Service member and Retired US Naval Commander; former Director of the US Navy Office of Small Business Programs responsible for small business acquisition policy and strategic initiatives; graduate of the US Naval Academy and has Masters Degree in Acquisition and Contract Management; Certified Professional Contract Manager through the National Contract Management Association.
Former Senior Contracting Official (GS-15); Bachelor of Science in Business Education; DAWIA Certified Contracting Professional; member of distinguished Army Acquisition Corps; member of the Fraternal Order of Eagles; provided strategic leadership and executive oversight of the Contracting and Procurement missions for various agencies within the US Department of Defense; served four tours as the Chief of Contracting for the US Army Corps of Engineers in Support of Operation Iraqi Freedom; multiple time recipient of the Superior Civilian Service Award, Commanding General Award for Excellence and Command Sergeant Major Award for Excellence.
Retired Deputy Commander, UK Special Forces; 30-year military career in the Royal Marine Commandos and UK Special Forces; former co-head for Europe Middle East & Africa of Goldman Sachs leadership and development platforms; Executive coach and accredited Marshall Goldsmith Executive and Team Coach; clients range from senior 'C Level' executives to Olympic coaches; leadership, management and business consultant with over 45 years experience working with financial service industry, military, and athletes.
Graduated Summa Cum Laude with BS in Criminology, Law, and Society with Minor in Intelligence Analysis from George Mason University; 5+ years experience with public and private sector building and uniting teams; significant expertise in planning and managing crises as business resilience professional; currently driving integration of operational processes for the Cybersecurity and Infrastructure Security Agency; Certified Coach, Speaker, Trainer (John Maxwell Team), Certified Business Continuity Professional (Disaster Recovery Institute), and Member of the Fairfax County Emergency Response Team (CERT); currently pursuing Master of Science in Leadership with a concentration in Government and Military Leadership from Norwich University.
Ask for your favorite Federal Training Academy team member to deliver your next engagement.