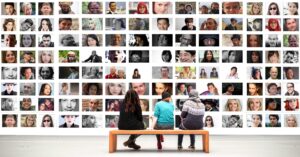 In the midst of the 2020 worldwide reawakening of Diversity, Equity, Inclusion, and Belonging efforts, people were asking what they could do to make a difference. 'Start Where You Are' began with the goal to provide some answers and to challenge individuals to do what's in their own personal control to create a more equitable and inclusive workplace. Each week features a new activity to prompt us to make small steps that can collectively bring about new and positive outcomes.
Some of the challenges come in the form of thought-provoking reflections, such as:
Consider the diversity of the people you ultimately serve.
Ask yourself what you are doing to demonstrate your organization's commitment to DEI&B.
Ask yourself whether you value your comfort over progress.
Acknowledge the ego in identifying your "normal" as the standard.
Ask yourself if and why you feel challenged by other perspectives of American history.
Evaluate how you judge people outside of work versus the diverse people you work and engage with regularly.
Ask yourself if you would choose to be a multi-racial or otherwise diverse employee in your organization.