Click on course flyer to download and share with colleague(s).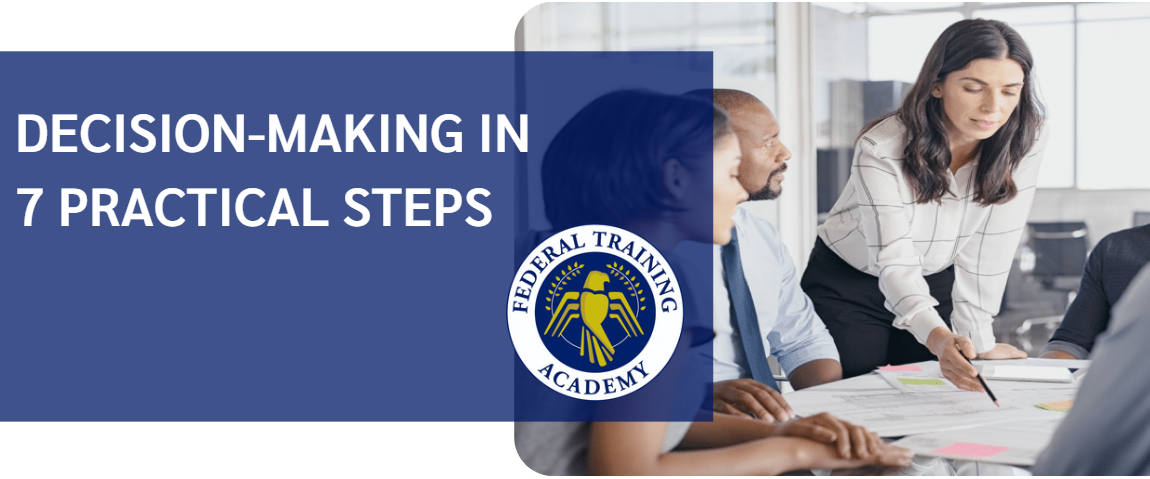 Delivery Options: Virtual, Classroom
Tuition:

$295

Includes electronic course materials, certificate with CEUs, M.A.P. for habit-forming and lifelong learning, and access to our "Coffee, Connect, & Coach (C3)" events. 

Discounts are provided for large groups.
WHO SHOULD ATTEND
All government employees are eligible to attend this course.
WHY YOU SHOULD ATTEND
These are changing and complicated times in today's workforce. This course improves on-the-job decision making and clarifies complex situations. The small class size allows one-on-one guidance from our expert instructor as you discover an easy-to-use method to solve problems and boost this essential skill.
COURSE CONTENT
Discover how the 7 KEY STEPS provide a process to de-mystify complex situations.
Identify ADAPTATIONS that may be necessary for SUCCESS at work.
CONNECT elements of the model to your COMMUNITY & CULTURAL context.
Apply the decision-making model to implement specific ACTIONS in each of the 7 steps leading you to INNOVATIVE SOLUTIONS.
COACH others to select and use the appropriate problem-solving METHODS

.

Explore and implement our

✨

M.A.P.

✨

for

HABIT FORMING and LIFELONG LEARNING.
WHEN AND WHERE
This course is currently a virtual instructor-led training. Maximum class size is 20 participants.
Choose ONE of the following dates and times:
09/21/2023 – 9:00 a.m. to 12:30 p.m. ET 

– CLASS FULL, join waitlist
Your agency may pay for this job-related training.
Complete your agency's training form, and submit it for approval.
Click on course flyer to download and share with colleague(s).